What growth challenges do fitness centers face?
One is turning new leads into members, two is up-selling members on new services and three is fighting churn.
If you could find a way to solve these problems, you'd be in great shape (no pun intended).
Automate 1:1 communication with conversational nurturing
Your ideal solution is conversational nurturing.
Conversational nurturing automates 1:1 communication with leads, including replies, answering questions, qualification and meeting scheduling.
It takes traditional email lead nurturing and adds a human-like conversational element to it.
Exceed's platform uses artificial intelligence to send emails to leads and respond to their replies, just like a sales person.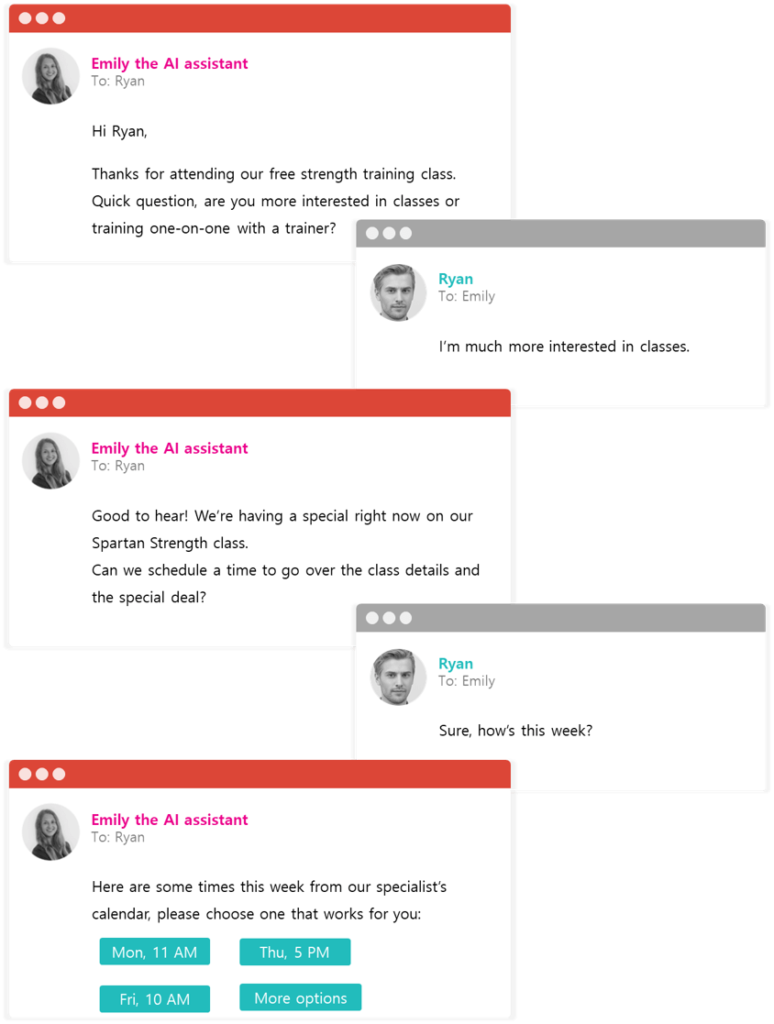 Once a lead is ready to talk to sales, the AI assistant hands the conversation over to your sales team.
How to use conversational nurturing to sell more memberships
Fitness club memberships are valuable. Each new member is worth about $517 per year.
A good conversion rate is absolutely crucial since most clubs generate hundreds and thousands of leads per month.
There are three scenarios where using conversational nurturing leads to more membership sales.
1. Respond immediately to new leads
You have five minutes to respond to a lead. Otherwise, there's an 80% reduction in the likelihood to convert the lead.
It's almost impossible to be this responsive without automation but marketing automation doesn't cut it, since its emails are impersonal and one-way (non-conversational).
Using conversational nurturing platforms solves this problem.
The AI assistant immediately reaches out to the new leads in a personal, human-like manner (the lead has no idea they're in a conversation with a bot).
It then asks & answers questions.
If all is good, it sets up a meeting time with your sales team.
Create conversational nurturing campaigns with Exceed
2. Re-engage inactive leads in your CRM
Your lead database is full of potential members, you just need a scalable way to engage them. You also have an ongoing opportunity to win back former members since 50% of new member quit.
Once again, use conversational emails instead of marketing emails to get leads to respond to you. By starting an email exchange, you can use automation to ask questions about a lead's fitness preferences and automatically respond with the right offer.
3. Up-sell current members on new services
It's six to seven times more expensive to acquire a new lead than it is to retain a customer. The probability to sell to a current customer is 60-70%, while selling to a new lead is only 5-20%.
What does this mean? Up-selling services to current members is the least expensive and most likely way to increase revenues.
You need to create a personal buying experience at scale if you have thousands of members.
Here's a quick conversational plan to up-sell your members:
Collect data about each member – preferences, club history, check-in times, etc.
Write plain-text, personalized email using the data – such as letting the customer know there's a free class today
Send a follow-up email with a qualifying question (example: "Would you attend this class regularly?")
If the customer passes your qualifying criteria, set up a meeting with sales
PS. We're helping marketers become experts in conversational nurturing. You can learn how to do it like a pro with our Conversational Email Masterclass.