Ever wondered how to draft effective emails? SuggestiveAI will help you boost your outgoing email open and response rates by more than 50%
There's a universal problem that everyone has struggled with at one time or another. It knows no bounds, affecting Marketing and Sales from entry level employees all the way up to C-Levels. I'm speaking of course about creating effective and engaging initial outgoing emails. With millions of emails sent out daily it's become increasingly difficult and frustrating to think you have crafted an effective, and engaging email, and wind up with no responses and a low open rate. So how can you write a better email that is truly effective, and ensure you're including all the necessary elements needed to boost open and response rates?
It's this common hurdle that we all face that has led to the launch of SuggestiveAI – your personal AI powered messaging helper. Suggestive AI has analyzed millions of emails and provides you with real-time actionable suggestions that work. With Suggestive AI, your AI assistant will guide you as you draft your initial outgoing emails – allowing you to boost your open and response rates.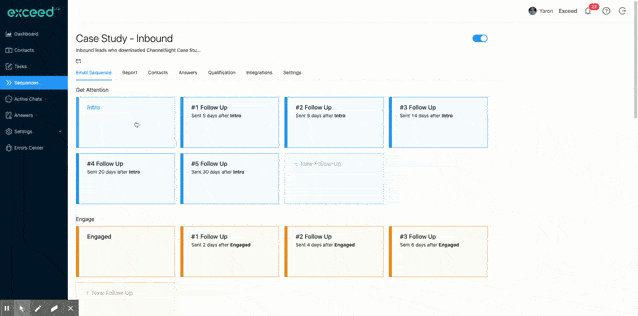 SuggestiveAI
harnesses the power of artificial intelligence, and our data backed algorithm, to bring you:
Real time actionable feedback and suggested edits as you draft your outgoing initial message- ensuring you don't miss any points that could contribute to the recipient opening and responding back.

Guided suggestions that adapt and change to your personal writing style and needs.

Enhanced productivity and efficiency in creating personalized, and captivating messages.
On average, clients that have utilized SuggestiveAI in tandem with their AI assistant have realized:
A 56% increase in open rate based on recommendations related to email subject line alterations

A 63% increase in open rate based on suggestions related to the integration of lead's demographics and firmographics

A 22% increase in conversion rate attributed to recommendations related to the  length of the outgoing message (optimal between 41-85 words)
Ready to see Excced.ai in Action?
Rather than going in 'blind' with no guidance or feedback as to the effectiveness of your emails, allow SuggestiveAI to do the heavy lifting, and provide you with data backed suggestions to optimize your email creation process and help qualify your leads in mass, and convert more MQLs. Rid yourself of uncertainty and equip yourself with the power of SuggestiveAI.
To get started using SuggestiveAI click here.