Update: November 20, 2019 – send unresponsive leads to Exceed for automated follow-up with one click.
There are a whole lot of leads in your CRM just going to waste.
You spent a lot of time and money generating those leads but they've now become low priority. Sales won't touch them and their nurturing campaigns are now over.
Engaging these leads and getting ROI from them has become easy, with the updated Salesforce integration with Exceed.
Using AI Assistants with Salesforce
First, a quick refresher on what Exceed offers:
Exceed is a conversational AI platform that works over email and chat. You get an AI assistant that can hold 2-way conversations with leads and customers. The assistant understands replies and intent and responds with the right message. This can be used to engage contacts in 1:1 conversations at scale, follow-up automatically, qualify and book sales meetings.
In which scenarios should I use Salesforce with Exceed?
Inbound leads – Automatically engage (similar to how an SDR engages) new leads that your SDR or Inside Sales team doesn't have the capacity to engage.
For example, have Exceed's AI assistant engage any lead with a "gmail" email and qualify them. If the lead passes your qualification criteria, it's passed on to your sales team.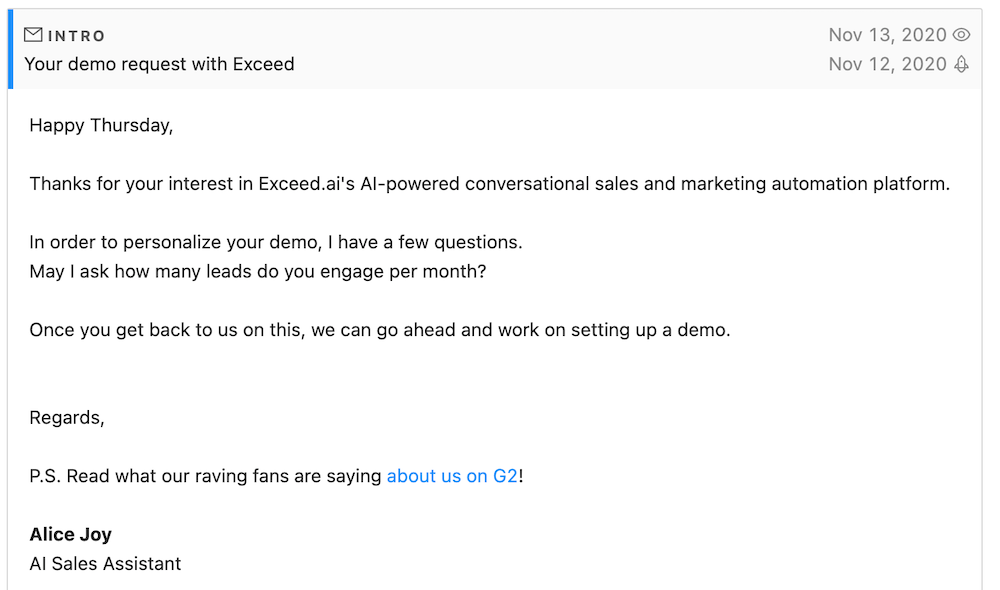 Event follow-up – After a conference or webinar, you'll want to follow-up with tens or even hundreds of leads. Using Exceed, you can do so immediately and set the AI assistant to keep following-up if there is no response.
Dormant leads – This is a big one. You likely have thousands of leads in your CRM that no one is engaging anymore. These leads are likely marketing qualified and you have some potential sales opportunities among them. Sync these leads to Exceed and let the AI assistant send them a sequence of emails to qualify them and pass to sales.
Meeting no-shows – Imagine your sales rep has qualified a lead and scheduled the sales demo. But then the meeting time comes and the lead doesn't show up or answer the rep's emails.
You've now lost a lead that was pretty far down the funnel. This hurts and happens more often that you'd like.
Sales reps can send these no-show leads to Exceed for instant follow-up and re-scheduling with one click. The Salesforce integration adds a "Send to Exceed" button to the lead's page in Salesforce.
How does Exceed's integration work?
The integration is designed to be quick and painless, taking just a few minutes to complete.
Exceed's integration with Salesforce keeps your leads' information synchronized in real-time between the two systems. This keeps your sales team up to date about leads, AI assistant activity and statuses.
Connect Salesforce with exceed.ai by using an API key or by simply logging into your account through our app.
Then all you need to is map the fields:
Contact us if you'd like to learn more about using Exceed with Salesforce or other CRMs.