People leave their jobs every 4 years. It's even worse in Silicon Valley, where millennials are twice as likely to job hop as the national average.
So what?
Well, this means you're sending many emails, especially nurturing, to a person, who's already moved on.
According to Mailchimp, the average email bounce rate is around 1% – many of which are for addresses no longer in use. This and the many auto-replies means that a whole lot of your emails are going to (wrong) irrelevant contacts.
But it's not only people leaving jobs. What about those who get promoted, retire or switch departments? 
But no one does anything about it.
It's a shame since a person leaving a job creates two leads for you.
This person is moving on to a new company – lead #1
Someone is going to replace the person at the old company – lead #2 
Automating the wrong person process
Growth marketing master Guillaume Cabane talked about on a podcast about how he handles wrong person contacts.
He sets up notifications for hard bounces (email cannot be delivered) and checks to see if the person has switched jobs. He then tries to make the replacement a champion and sends a gift to the old contact at the contact's new job.
Automating this sounds complicated and resource intensive. Guillaume can pull it off, but I don't think most of us have the bandwidth.
Luckily, Exceed has created a new "wrong person" feature that saves you a lot of the work.
This new feature has three activities:
Automatically respond to contacts when they reply (by email) that they're the wrong person to talk to
Mark the contact as "wrong person" and sync your CRM and marketing automation platform
Send you the contact details of the correct person if the contact refers your AI assistant to him or her.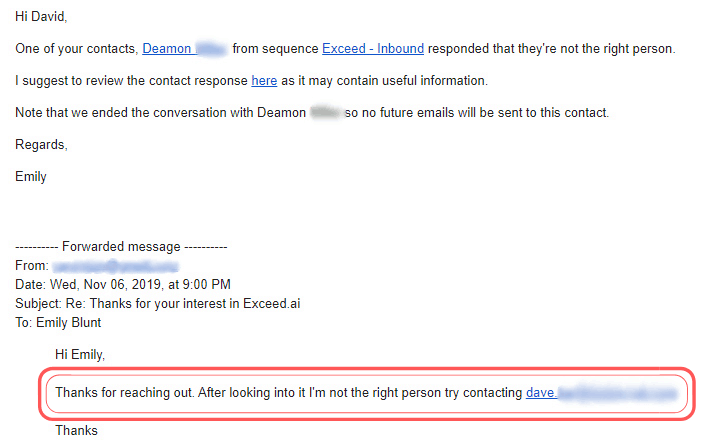 This way, you've updated your records and have a new lead to engage – all done by Exceed for you.