Tired of manually scheduling meetings with potential prospects? Now you don't have to! Let exceed.ai save your rep's precious time by booking qualified meetings on their behalf.Getting started is simple and easy. All your reps need to do is give exceed.ai access to their calendar and set convenient time slots to meet with leads. When a lead is ready to talk to a rep, the virtual agent will send the lead 3 available time slots to choose from. To book a meeting, the lead simply clicks on the best available time. If no time is convenient, the virtual agent will send additional options.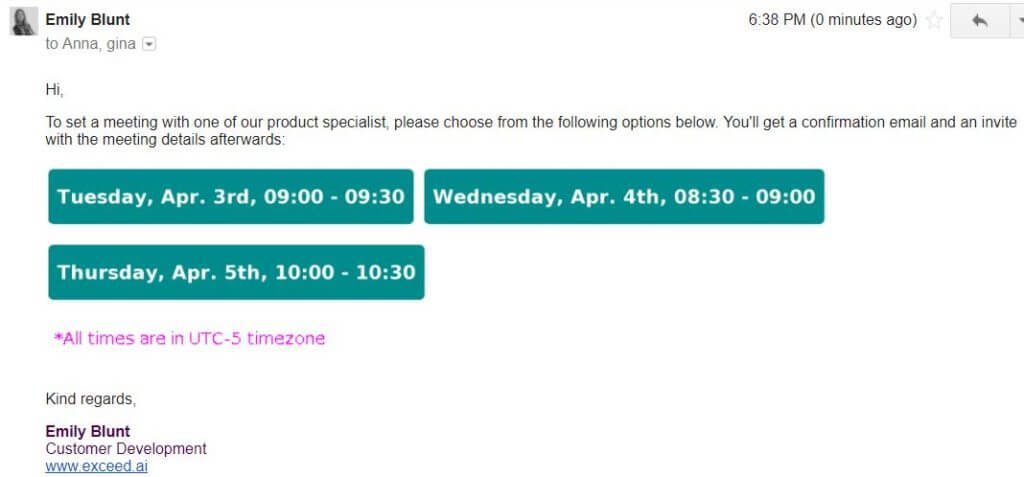 Example of the meeting scheduler email the virtual rep sends to a qualified leadThe lead will receive a confirmation message that a meeting has been booked, and both the lead and rep will receive a calendar invite.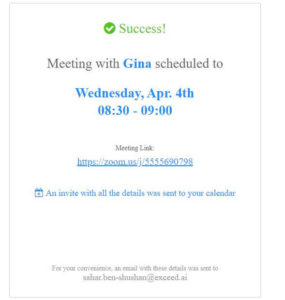 If a lead revisits the scheduling email after having chosen a time, he will only be able to see the time that was selected.

Example of scheduling email revisited by lead after a time slot has been chosenexceed.ai allows sales teams to qualify more opportunities into the pipeline by automating lead capturing, qualifying and nurturing. exceed.ai's AI-powered sales assistant engages leads with intelligent two-way personalized conversations over email (inbound and outbound) and chat.Want to know more about what we can offer you? Read more about Personalizing Emails, Automatic Handover of Leads and Uploading Contacts.