Did you know that there is a 10x decrease in odds of qualifying leads if they're not responded to promptly? Let exceed.ai identify which of your leads are interested straight away and hand them over to reps while they are still hot! exceed.ai allows sales teams to qualify more opportunities into the pipeline by automating lead capturing, qualifying and nurturing. exceed.ai's AI-powered sales assistant engage leads with intelligent two-way personalized conversations over email (inbound and outbound) and chat.When leads ask certain questions, they mean business! That's why when a specific question is asked, we automatically hand over the lead to a human rep.For example, if a lead asks about pricing and pricing is set up in the sales playbook as a strong intent, the lead will be introduced to a human rep.

Set up which questions should mark a lead as 'qualified'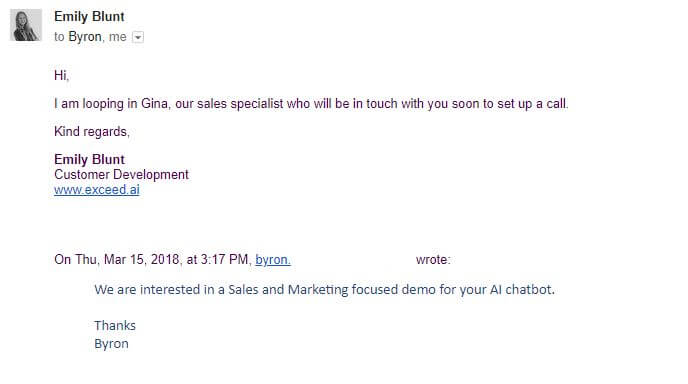 Example of email where Emily, the virtual assistant, hands over the 'qualified lead' to a human rep
Learn more about how you can personalize your emails for prospects here!