Every year Aragon Research publishes its Hot Vendor Special Report identifying innovative vendors who offer platforms that transform the relationship between enterprises and their customers.
If you check out the previous years' Hot Vendors you'll see that it's a who's who of tech. This year, Exceed has been named a Hot Vendor in the conversational AI category.
What Is Conversational AI and Why Is It Newsworthy?
So what is exactly is conversational AI and why should you care about it?
Conversational AI is the use of artificial intelligence (AI) to automate communication with people in a natural way and at scale.
You see conversational AI in action everyday with chatbots, and voice-activated devices like Amazon's Alexa.
How Conversational AI Can Help Marketers and Salespeople
Exceed offers an AI-powered conversational assistant for marketing and sales.
Exceed's assistant can have automated two-way conversations with leads over chat and email. The assistant handles the repetitive steps in conversations, from initial contact all the way to a call for a sales rep.
We realized that marketing and sales teams need a more efficient way to scale without missing out on good leads or losing their personal touch.

With Exceed's conversational assistant, you don't have to worry about leads slipping through the cracks or not getting enough follow-ups. The AI sales assistant contacts, qualifies, follows-up and books sales calls with every lead. Your sales team is then free to do what they do best and close deals.

Ilan Kasan, exceed.ai CEO & Co-founder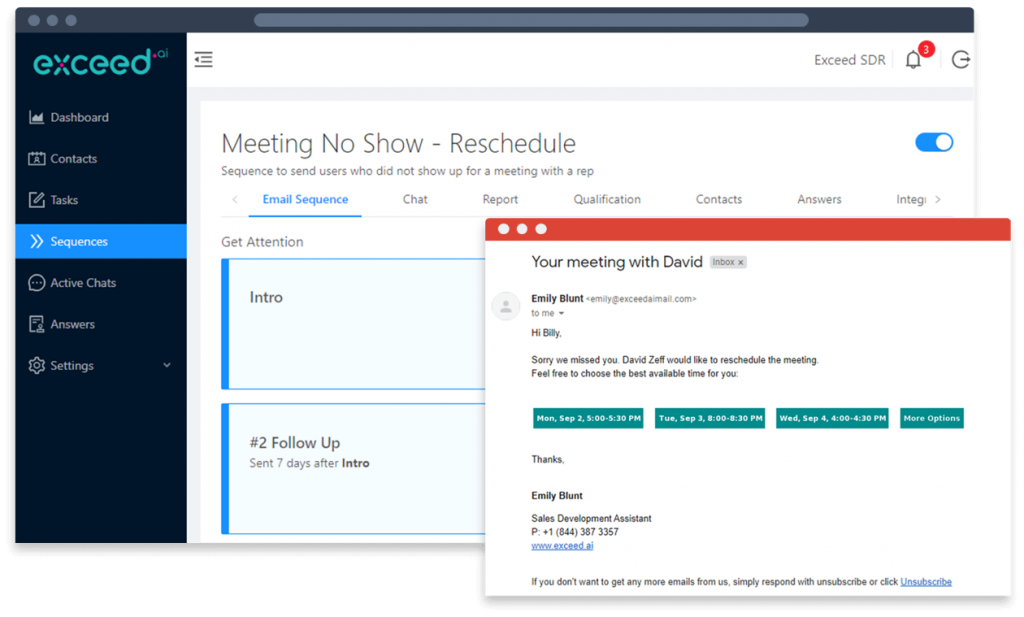 The Award Really Goes to Our Customers
Recognition is great, but we couldn't do it without our customers' help.
At Exceed we're dedicated to engaging with our customers and incorporating their feedback into the product. We believe that being named a "Hot Vendor" illustrates how this dedication leads to market leadership.

Yaron Ismah-Moshe, exceed.ai Chief Product Officer & Co-founder
Visit Aragon Research to get a copy of the 2019 Hot Vendor Special Report.
To learn more about Exceed, request a demo or leave your email with our chatbot and see for yourself how the conversational assistant works.
Required Disclaimer: Aragon Research does not endorse vendors, or their products or services that are referenced in its research publications, and does not advise users to select those vendors that are rated the highest. Aragon Research publications consist of the opinions of Aragon Research and Advisory Services organization and should not be construed as statements of fact. Aragon Research provides its research publications and the information contained in them "AS IS," without warranty of any kind.