Exceed is helping us to amplify our pipeline and scale our customer experience, ensuring that every lead is getting a touch. I don't know how we would have done it without something like Exceed

John Dering, Sr. Director of ABM Technology & Strategy, Demandbase
Demandbase Hits 109% of their Sales Goal with Exceed AI
Demandbase's ABM solutions are in high demand. In 2019, they became one of the few VC-backed companies to pass the $100 million revenue mark.
Demandbase helps B2B companies identify, win and grow target accounts. AutoDesk, Adobe and DocuSign use its ABM solutions to increase pipeline and tie marketing activity to revenue. It's the category leader with a growing list of hundreds of customers.
Demandbase achieved amazing results almost immediately with Exceed:
Beat forecasts and qualified 13 sales opportunities with more SQLs still in the pipeline

Exceed made it possible for half of the sales development team to increase its pipeline
Exceed's output equaled one full-time SDR and is projected to cost 50% less
One SDR hit 104% of quota with Exceed vs. 87% without
"As our use of Exceed gets better every quarter, our cost per opportunity will go down, our output per SDR will go up. The overall impact that Exceed has on our pipeline and ROI should go up pretty dramatically."
The challenge
Demandbase relies on its SDR (sales development rep) team to engage leads and generate pipeline. SDRs also help promote marketing campaigns like webinars, roundtables, workshops, etc.
"We're promoting strategic events via marketing automation but often it takes a human push to get people to respond."
The engagement process includes different geographies, buyer journeys, segments and personas. This makes Demandbase's personalized engagement a time-consuming process for SDRs.
According to John Dering, Demandbase's Sr. Director of ABM Technology & Strategy:
"Engagement campaigns take 20%-25% of sales' time."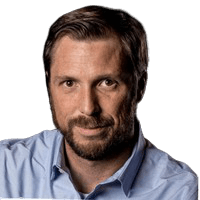 That's a lot. So John set out to find a scalable way to get more qualified leads into the sales pipeline and more sales time for SDRs.
He realized that there are two key initiatives to reach his goal.
Get more productivity per SDR
Ensure that every lead gets qualified
Increasing sales productivity
"It's like the SDR has their own SDR who makes sure meetings are not getting missed."
SDRs can beat their quotas if they limit their work to engaging qualified leads. After all, a call with an unqualified lead is wasted sales time.
But how do you qualify leads before the SDR engages?
Demandbase turned to Exceed's AI-powered virtual assistants to act as an SDR for his SDR team. Exceed acts as the first point of contact and uses AI to converse with leads by email. The virtual assistant schedules a meeting with the SDR once it qualifies the lead.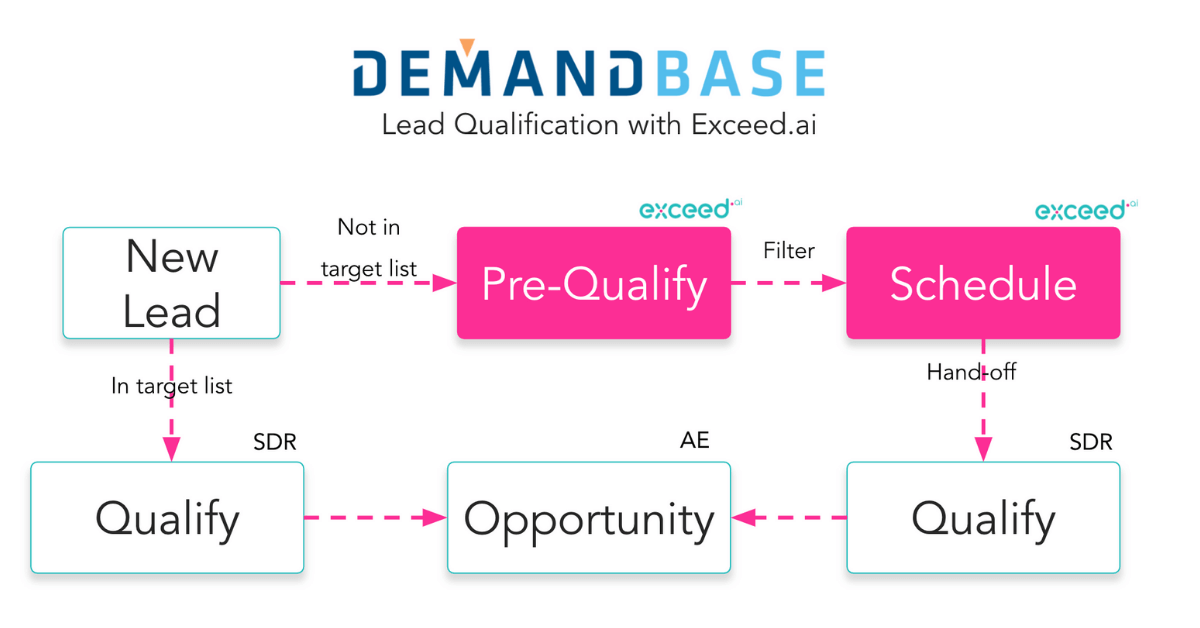 Qualifying leads before the SDR engages
John explains how Demandbase uses Exceed to increase SDR productivity:
"When there's interest for a meeting and the lead fits all the right criteria, the [Exceed] virtual agent connects the lead and SDR.
It sends a referral email, 'Hey, I'm going to connect you with our rep and they'll set you up.'
All of this is done in Exceed the way an SDR would do naturally. Exceed connects to the SDR first, instead of the SDR connecting directly to the AEs first."
But it doesn't stop at sales opportunities.
Exceed routes leads qualified for partnerships but not sales (i.e. an agency) go to Demandbase's partner managers.
Automating human interactions
Exceed's AI allows it to automate actual conversations that conventional marketing can't.
John took full advantage of this by creating very engaging outreach.
"I leaned on my sales counterparts to say, 'Hey, you know, what are you guys using now? That's working really well. Can you hand that off to me?' "
The messaging worked so well that leads had no idea they were conversing with AI.
"There were former customers over at new companies and they didn't know it was a virtual assistant. They'd follow-up and say, 'Hey, by the way, say hi to your CFO for me' and things like that. So that's great and these are savvy, digital marketers on the cutting edge."
No lead left behind
It's inevitable that some leads fall through the cracks for most companies. This is especially true for high lead volume companies like Demandbase.
Exceed makes keeping up with the demand possible by automating follow-ups.
"With a high volume of responses, Exceed really made sure that everybody was getting a follow-up"
It also ensures that Demandbase can uncover the hidden gems.
"So we run a target account list of about 4,000 accounts, but, you know, there could be 7 or 8,000 companies out there that could be a good fit for us based upon our ideal customer profile."
Demandbase automates engagement with non-target list leads with Exceed.
Exceed asks qualifying questions to see if the lead fits the ideal customer profile. If yes, the Exceed schedules a meeting with an SDR.
"I call it no lead left behind. We're finding the diamonds in the rough and not missing those."
Just the beginning
When a company like Demandbase combines its data with Exceed's, the sky's the limit.
"I think it would be a really cool story around how account based marketing technologies can work with virtual assistants."