Every growing business reaches a point where lead management becomes an issue. How do you conduct high-volume lead qualification in the most efficient (and effective) way? Smart businesses strive to never miss a qualified lead, and they make sure that they aren't overextending their marketing and sales teams with low-impact and superfluous tasks. 
The problem is that engaging and accurately qualifying 100% of your leads through web-behavior-driven lead scoring and outbound sales representatives is prone to creating waste and letting quality leads fall through the cracks. In fact, according to DemandGen, 60% of businesses give their lead nurturing a failing grade.
Traditional lead scoring systems are outdated and not scaleable. Fortunately, multiple AI-driven conversational marketing platforms have emerged to help you nurture, qualify, and schedule meetings with your leads at scale. They increase your marketing and sales team's output by reducing the time spent on repetitive and mundane tasks. 
Your sales team's time is better spent in meaningful meetings rather than chasing down leads who may not even be properly qualified.
Exceed.ai and Conversica are at the top of the list of AI sales assistants—but which is more suited to your needs? While they both offer automated lead engagement, let's see how their capabilities compare and decide which one is right for you.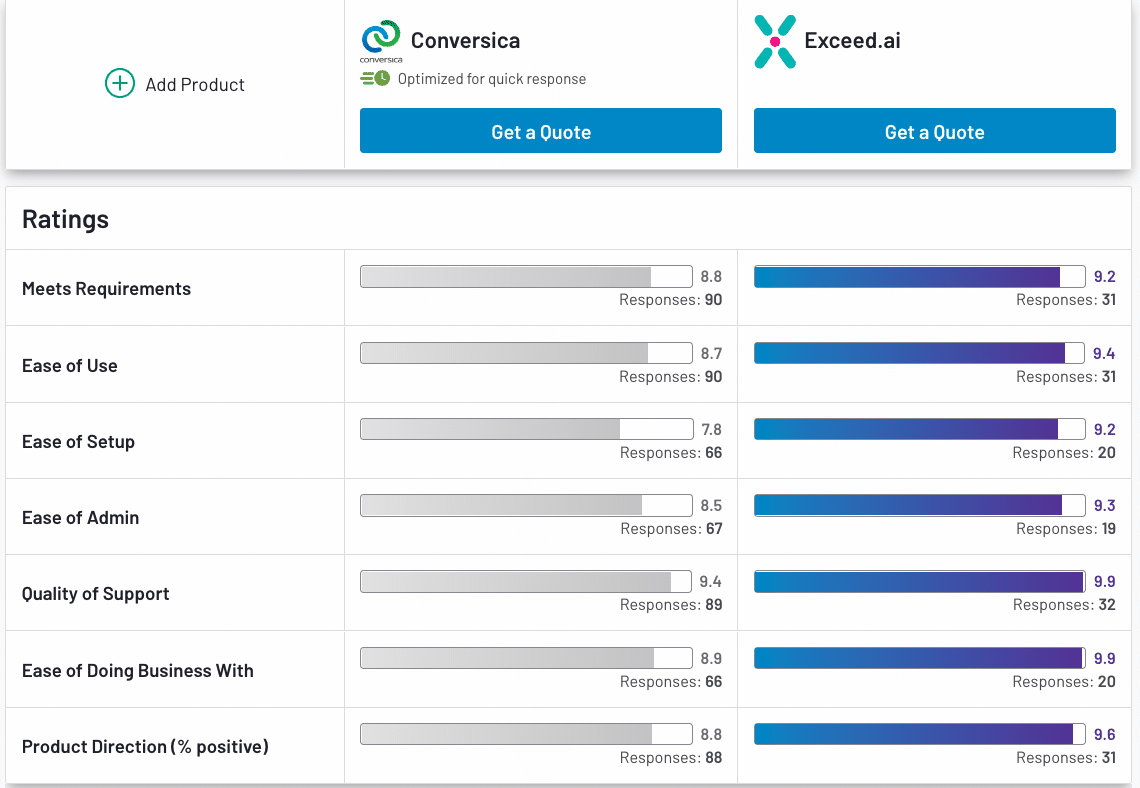 Source: https://www.g2.com/compare/conversica-vs-exceed-ai
FEATURES
Both Exceed.ai and Conversica include an AI-powered email assistant that is constantly improving via machine learning. This technology improves with natural language processing, ultimately allowing the AI to respond and engage with every lead so your sales team can focus on higher-value tasks.
In fact, Marketing Profs reported that companies surveyed that use AI have 52% better lead conversions, and 59% better sales closing rates of 59%.
CHATBOTS AND SMS
While Exceed.ai and Conversica both offer a website chatbot and SMS capabilities, Exceed's functionality is far more robust than Conversica's. Conversica's chatbot and SMS is generally limited to traditional button options or preset text to guide the prospect to the desired action, however it currently cannot respond outside the preset sequence.
The big differentiator for Exceed.ai is that their chatbot has been developed to engage, qualify, and schedule meetings and offers many of the same AI virtual assistant features you expect from email. A prospect can engage with the chatbot, ask questions and get an appropriate response in real-time, without being pushed to the desired action. All the while, Exceed is collecting the responses and parsing the data for qualification and relevant information for your CRM. From the lead or prospect's perspective, Exceed's chatbot and SMS offers a seamless transition between communication channels and allows for a personal conversation with the AI.
MEETING SCHEDULER AND THE HANDOFF
With closing rates as the goal, the handoff to your sales team is a crucial consideration when it comes to choosing an AI assistant. Conversica does offer the possibility of auto-scheduling meetings and handing off via third-party integrations, but Exceed.ai offers built-in scheduling tools. This means a seamless experience for your leads, and fewer services and integrations for your team to keep track of, as Exceed.ai is an all-in-one service. Additionally, Exceed can schedule meetings across all channels integrated with its AI, giving your lead more opportunities to move down your pipeline.
EMAIL FLEXIBILITY
Recent studies show that personalized emails are 6x more likely to drive conversion, and help build consumer trust. An important question you should consider is how much personalization you want, and how much workflow flexibility you're looking for. Will standard email templates and lead qualification questions get the job done, or would you like to add more personalization and customization to your ecosystem?
Conversica offers far fewer customization options—it doesn't allow fully-customizable email copy, it doesn't offer persona-based conversations, and it can't qualify your leads. That said, this may not be a problem if you don't require personalization for your customers, or if you don't need lead-qualification before sending leads over to sales reps. 
On the other hand, Exceed.ai offers fully customizable email copy, lead qualification via questions, custom playbooks, and flows, and it works in the chatbot or via email. Exceed goes one step further than Conversica as well by intelligently managing out-of-office responses and recognizing appropriate follow up dates if someone is just interested but might be a few months down the road. As opposed to a boilerplate system, it is much more flexible and can be adjusted across a wide range of businesses and customer interactions. Exceed adds a layer of personalization by transforming automated personalization into fully automated personal conversations.
Exceed.ai is the stronger choice if you want to add personal touches to customer interactions and more fully integrate your AI assistant into your team's existing workflow.
THE VERDICT
If you mostly work on leads with a sales cycle that takes minimal consideration, prefer a simple personalization, and are not concerned with cross-channel qualification and communication Conversica's email capabilities can be a sufficient platform for you. For a customizable solution with personalization options, flexibility, auto-scheduling, objection handling, intelligent data collection and seamless handoffs, Exceed.ai is a platform that will help you qualify more leads efficiently and at scale.
Read customer reviews about Exceed.ai on G2
Ready to see Exceed in Action?