Many businesses today are in a constant state of hyper-growth mode.
Every day, the main goal is to grow your user base and revenues. And you have to do this since your investors are banking on it.
If you're VC-backed then you're working hard at demand gen. If you're working hard at demand gen, then you're also working hard at sales development.
What good are those leads if you can't turn them into sales opportunities?
Problems start to arise when you build an SDR team to keep up with the growing number of marketing leads. Follow-up and appointment settings are a poor use of your SDRs' time and talent.
This is because:
Most reps quit following-up too early
50% of your reps' time is being wasted on unqualified leads
Only 25% of leads are legit and should be passed to sales
Your sales development process is inefficient and your SDRs are busy with tasks. Instead of using SDRs to generate more opportunities, you're using them to miss fewer.
It's a process screaming out for automation.
How do automated SDRs work?
Automated SDRs (aka conversational nurturing) bridge the gap between marketing and sales. It uses artificial intelligence (AI) to conduct two-way email exchanges with leads as a human would.
An AI SDR will follow-up with leads, answer questions, qualify and schedule meetings.
This is something that you couldn't do before. Marketing automation is one-way communication and sales automation still requires your reps' input. Automated SDRs let you offload what people struggle with – repetitive, high volume conversations.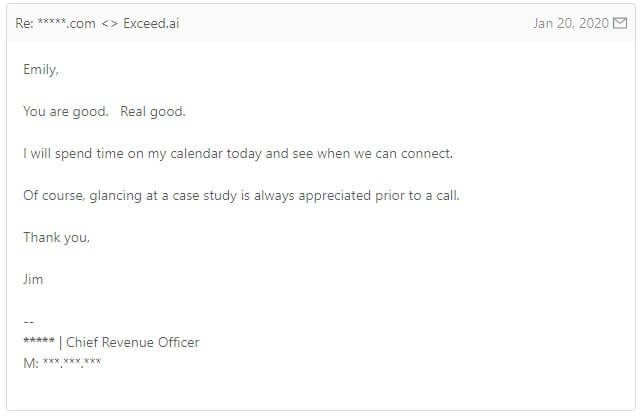 Ten reasons why automated sales development accelerates growth
Here are the top ten ways that automated SDRs impact high-growth companies:
1. You'll get more responses from leads
Three statistics illustrate how crucial follow-up is to converting inbound leads:
Most new leads have the same conversations with your reps up until the hand-over. If your reps use the same email template for every new lead, so why not automate and get more meetings booked?
It will be the quickest increase in ROI you can make.
2. Your human reps (including SDRs) will deliver more ROI
Automating sales development often leads to hiring more SDRs!?
It's true. Better follow-up means more qualified leads handed over to your SDRs for calls. It means more time for research and networking, which also leads to more qualified leads.
3. Someone can finally engage the leads in your CRM
According to AdRoll/RollWorks, sales ignore 50% of marketing leads.
Sales won't touch the 1000's of older CRM leads because they're focused on newer, hotter leads. Automation can engage these leads and hand over the responsive and qualified leads.
4. You'll get better results from ABM campaigns
What happens when an ABM lead misses a meeting? Have the automated SDR follow-up to reschedule instead of the rep.
The lead is unresponsive? Get persistent follow-up from the automated SDR. The same goes for out-of-office & contact-me-later replies.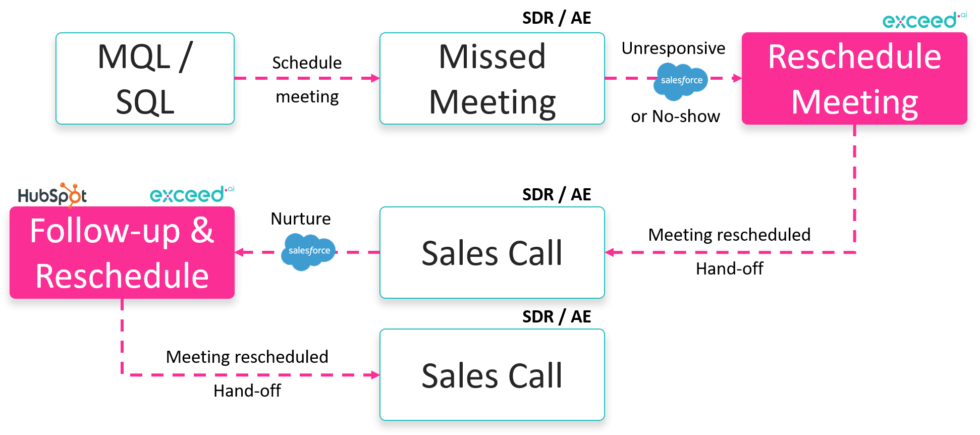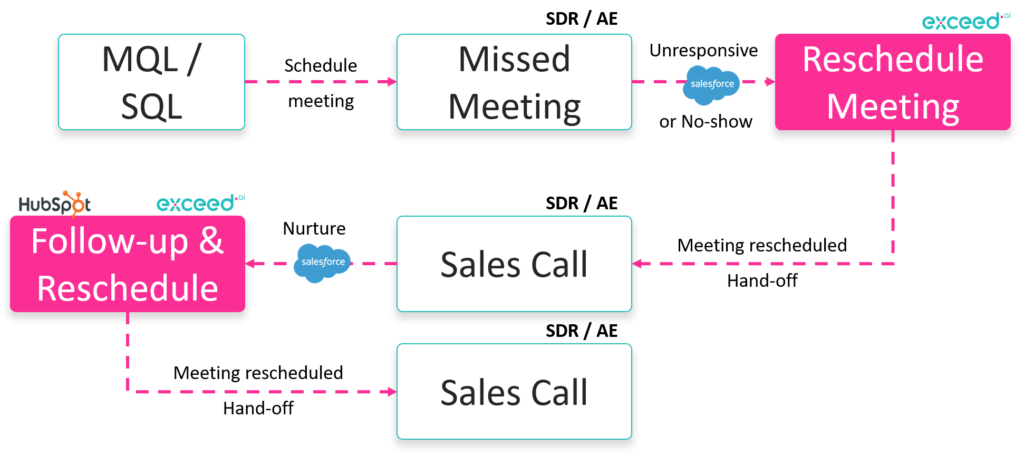 5. Turn meeting prep into your competitive advantage
Your reps will have more time to prep for calls once you free them from follow-ups (another four hours of selling time per week!).
That's a lot more preparation for each call than the competition's reps have.
6. Re-invest the cost savings into other growth streams
It often takes several SDRs to manage the repetitive work of responding to leads. Automation costs less than those salaries.
Take the cost savings and spend that money on upskilling your team for an improved buyer journey.
Not an Exceed user?
Getting started with Exceed's sales development automation platform is fast
Contact us to get started
Load up your best performing playbook
Connect a rep's inbox with a click
Add some leads & you're ready to go!
7. It creates a collaborative atmosphere
SDR automation needs marketing's skill and creativity and sales experience.
Each team acquires new and useful skills from working with the other. The joint effort creates a better, more streamlined marketing and sales organization.
8. Completes the modern sales & marketing stack
Combine with marketing automation, lead scoring, chatbots and intent data for highly personalized outreach and maximum sales velocity.
You need to automate if you want to combine all the tools and data available to you.
9. It's perfect for experimentation
Automated SDRs allow you to experiment with:
Email copy and subject lines
Cadence
Targets
Timing
Data and other integrations
10. Using sales development automation is a force multiplier
It costs about $100k and takes almost a year to fully onboard a sales rep. Shouldn't you maximize their productivity with that kind of investment?
Give each rep their own personal AI SDR and now each rep is a team, not an individual.