The pandemic has accelerated the global adoption of a remote workforce. Businesses of every size and industry are working from home and in the cloud, making decentralized teams essential to survival. 63% of business leaders say AI technology has helped their company remain resilient in the face of a pandemic.
1. Artificial Intelligence Will Help Meet Increasing Online Demand in a Decentralized World
Today, artificial intelligence sits at the core of this incoming wave of digital adoption and expansion. Laurie McCabe, Founder and Partner at SMB Group says, "using digital technology and AI to automate and integrate business functions is the first step for most companies to get more done, more quickly, easily and accurately."
Modern consumers are increasingly purchasing products and services online, which raises the need for technology to help companies scale to meet growing demand. In support of this, Gartner reports that while organizations have notably slashed their budgets in finance, marketing, HR, and administrative overhead, investment in technology has dramatically increased by 7%. 
The study reports that 69% of Boards of Directors have accelerated their digital business initiatives following COVID-19 disruptions, and their budget allocations reflect that claim.
2. Humans and AI Will Work Together to Increase Productivity and Generate Demand
Sales and marketing teams will only continue to be more productive with AI by automating redundant, time-consuming tasks, and ultimately opening up time and space for higher-value projects. A McKinsey survey shows that organizations embracing AI solutions are seeing higher revenue and 44% in reduced costs.

When asked about the future of AI, Ted Rubin, leading social marketing strategist and keynote speaker, adds, "So instead of having a director lead and manage people, he or she will be managing their AI interactions. In my mind, I'm picturing us all having one of those J.A.R.V.I.S. assistants like Tony Stark had in the movie Iron Man.
Now, does that make you more efficient and effective, and help with your personal relationships? If AI can take routine tasks and simple work functions off my desk, that allows me more time to engage with my community of friends and connections."
Even though a system like J.A.R.V.I.S. is still several years away, sales and marketing teams are already working alongside AI tools to automate redundant tasks to focus on higher-value work
Augmented Workforces are Changing How Marketing and Sales Team Operate
In recent years, many media outlets have predicted that automation will threaten the workforce, with the resulting loss of jobs capturing global attention. KPMG states that even the most generous estimates cannot put a job loss rate from automation above 5%. 

Laurie McCabe says, "robots are already here! But in the past, they've typically been relegated to use in things like factory lines. But this is changing–robots are doing more human-like things and will be a crucial piece to any business."
It has thus caused an increase in the use of augmented workforces: agile teams that leverage the capabilities of artificial intelligence to work alongside them.  Augmented teams reduce the amount of time humans spend on repetitive, recurrent tasks, and instead focus on adding value to an organization.
According to Deloitte's comprehensive study on AI adoption, process efficiency is the key benefit for sales and marketing teams. The rapid advancement of AI technology has accelerated the reliance on data to magnify human output, not to fully replace them. 
Examples of companies utilizing natural language processing (NLP) include Exceed.ai, which uses data from past interactions to analyze customer requests and provide specific information or prompts

3. Artificial Intelligence Will Help Marketing and Sales Teams Create Human Touch Points Online
Artificial intelligence is increasingly helping businesses replicate the in-person experience by bringing human touchpoints online. 

 An example is conversational ABM, which can only be carried out using artificial intelligence. When closing enterprise clients, Sales Development Reps (SDRs) are tasked to manually follow up and re-engage accounts before pushing accounts down the funnel.
An AI solution can speak with every lead in your pipeline without adding more SDRs or sifting through hectic manual processes, which by in large is the definition of scale.

4. Successful Firms Will Continue to Leverage AI as a True Competitive Advantage
Harvard Business Review estimates 40% of all potential value that can be created by analytics today comes from AI, creating a $2.6 trillion market value for sales and marketing teams. Whether it's a conversational tool or an analytics platform, Ankita Sharma believes that organizations leveraging AI technology "will provide an edge on their competitors."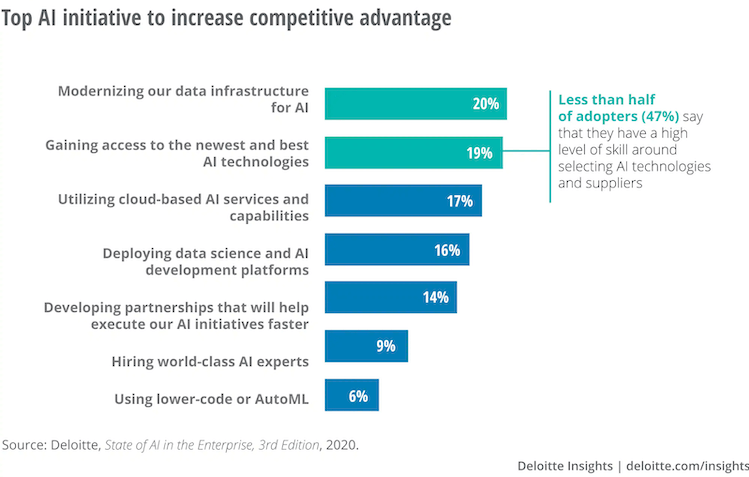 As early mover advantage fades in the next few years, more organizations will leverage AI to modernize data infrastructure, build cloud-based services, and develop relationships with their audiences at an unprecedented scale.
If you're ready to scale your sales and marketing operations, schedule a free demo to see how Exceed can transform the way you work.
Ready to see Excced in Action?
More About Our Contributors
Ted Rubin is a leading social marketing strategist, author, speaker, and CMO of Photofy. Ted and his business partner John Andrews, are publishing a book called Retail Relevancy AND while building Photofy, which helps brands understand how employee content enablement dramatically expands brand engagement. Explore Photofy here.
Laurie McCabe brings more than 25 years of experience in the IT industry to her current role as Cofounder & Partner, SMB Group. Watch their 2021 Top 10 SMB Technology Trends report here.
 Ankita Sharma is the Director of Marketing at Axess Law and the Founder of MarTechWorld.blog. Her passion is to help companies grow its customer base by leveraging data, technology and intellect.